The rapid change in climate (one of the major threats in today's world) will be too great to allow many eco-systems to suitably adapt, since the change have direct impact on biodiversity, agriculture, forestry, dry land, water resources and human health. Due to unusual weather pattern, rising greenhouse gas, declining air quality etc. society demands that business also take responsibility in safeguarding the planet.
Trust Bank Limited is concerned with social and environmental impacts of its investments and in-house green management to become sustainable investment friendly bank. Trust Bank Limited has been conducting banking business in those areas and in such a manner that helps the overall reduction of carbon emission by its customers as well as from own operations. Sustainable finance is often understood both as "doing good and doing well".
Despite the Covid-19 pandemic situation during 2020-21, to be aligned with Bangladesh Bank and to expand the outreach of financial services in the remote areas and marginalized populations, Trust Bank has taken initiatives to set up "Uposhakha" across the country & mobilize the financial activities with mobile financial services.
 Due to the, Covid-19 Trust Bank promotes sustainable financing through inclusive financing of SME cottages, marginalized people and overall BB-recognized products such as GTF, TDF. Trust Bank has entered into an agreement with BB to avail this facility for further financing in the sustainable sector. Cottage, Micro & Small Enterprise Financing (CMSE) CMSE financing of the Bank ensures inclusive & sustainable economic growth through CMSE development with special focus on women entrepreneurship development. For this reason, cluster based financing model has been playing as a catalyst in the growth of cottage and micro segment in the country.
As a part of sustainable growth, Trust Bank has already been introduced a loan product named "Trust Prantik" for the group of people who doesn't have the privilege of having formal financial services for personal need and to reinforce their income generating activities. This product is aimed to provide loan for agriculture & agro based activities, grass root level entrepreneurs, marginal & landless farmers and support other low income individuals such as garments workers & Other service holders, masons, electricians, plumbers, fishermen, goldsmith, weavers, blacksmiths, potters, carpenters, painters, vegetable sellers etc.
Trust Bank Sustainable financing position upto December 31, 2021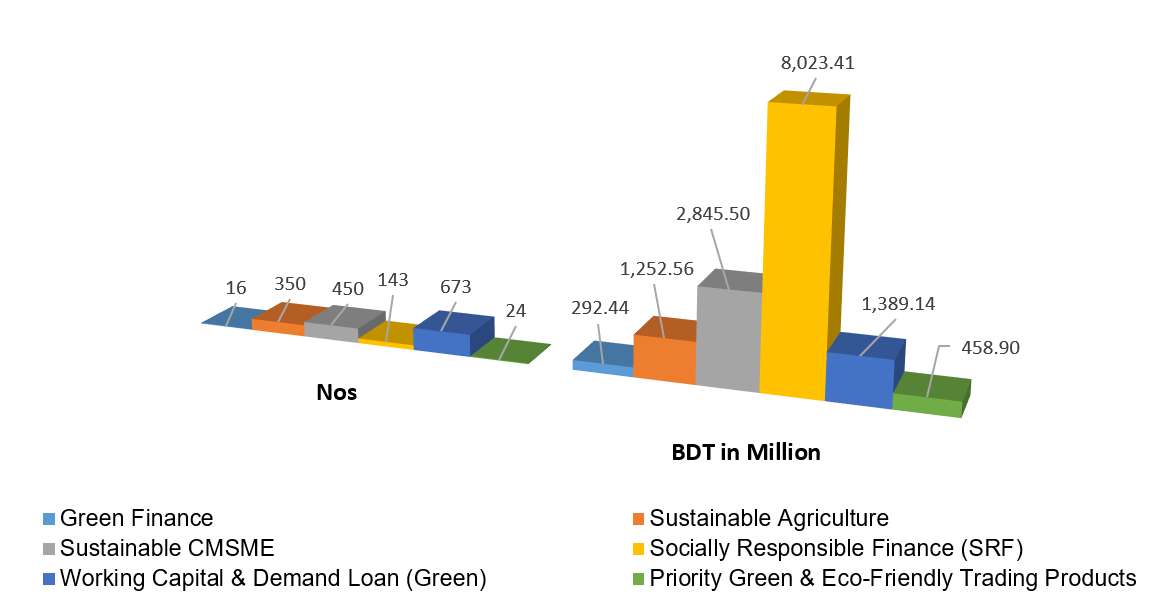 The Bank has integrated sustainability into overall credit management by adopting Environmental & Social Risk Management policy. Financing in sustainable, eco-friendly and socially beneficial projects are always our preferred area of lending. We have set our target for sustainable finance to ensure our contribution towards the Sustainable Development Goal.