It is well known that green banking is a component of the global initiative by a group of stakeholders to save the environment. The efforts are expected to bring positive changes in the environment. Trust Bank is also committed to practice digital, nearly paperless, sustainable, green banking operations by making best use of the information technology and related professional skills. We widely practice using online banking, mobile banking, internet banking, e-mailing and SMS banking.
Trust Bank Limited is sincerely looking for financing green projects such as LEED certified industry (Certified Green Industry & Green Building/Green Featured Building), Recycling & Recyclable Product (PET Bottle recycling plant), Ensuring Work Environment and Security of Factories Workers, Effluent Treatment Plant (ETP), Hybrid Hoffman Kiln (HHK), Zigzag or equivalent Technology in Brick Field, Renewable Energy (Bio-Gas Plant, Solar Home System & Solar Irrigation Pumping System) etc.
TBL is equally concerned with carbon emission and waste management. Keeping this in mind, besides its financing in ETPs and auto brick fields, it has financed a LEED Certified Green Industry named Pretty Group. The Bank also financed a 17 storied building named 'Cityscape Building' located at Gulshan, which is popularly known as 'Green Building'.
We have signed Participation Agreement with Bangladesh Bank under refinance scheme for lending in green product/initiatives (e.g. investment in sectors like Renewable Energy, Green Industry/Building Brick Manufacturing and Waste Management etc.). After signing participation agreement with Bangladesh Bank, Trust Bank finance in this sector has been recorded at BDT 641.15 million against 2,934 nos. of Bio gas plants in different locations of the country, under 4 cow model of Bangladesh Bank. Trust Bank also financed a culster based biogas gas plants at Dhamrai, Dhaka.
Trust Bank also finance for installation of 4,197 Solar Energy Systems through MFIs linkage in the district of Jenaidah Munsigonj, Jessore, Satkhira, Panchagrarm, Kurigram and Mymensingh. A village named Howlipara, Jenaidah, is yet to be named as 'Solar Village'.
TBL in partnership with IDCOL financed a PET Bottle Recycling Plant at Rupgonj, first of its kind in Bangladesh.
On top of that, the bank opened 02 (two) solar-based branch in the district of Lalmonirhat and Kishoregonj respectively.
Trust Bank organized a 'Green Event' followed by a Seminar on "Renewable Energy: an eco-friendly investment for green living" for creation of awareness among the mass people.
Our green financing portfolio comprises of the following:

ENVIRONMENT RELATED INITIATIVES
Environmental & Social Obligations:
Trust Bank Limited as one of the leading commercial banks in the country always conducts in house banking activities with a view to use its resources avoiding waste and reducing energy consumption at maximum level.
On the other hand, to help our clients reaching the highest environmental and social standards Trust Bank Limited already formulated Environmental & Social Risk Management (ESRM) Policy in 2018. Under this policy we carefully assess the extent of Environmental and Social impacts before making any financing decision and selecting any project. We work with our clients to apply a clearly defined set of environmentally and socially responsible international standards and good practice to mitigate and manage E&S risks and impacts.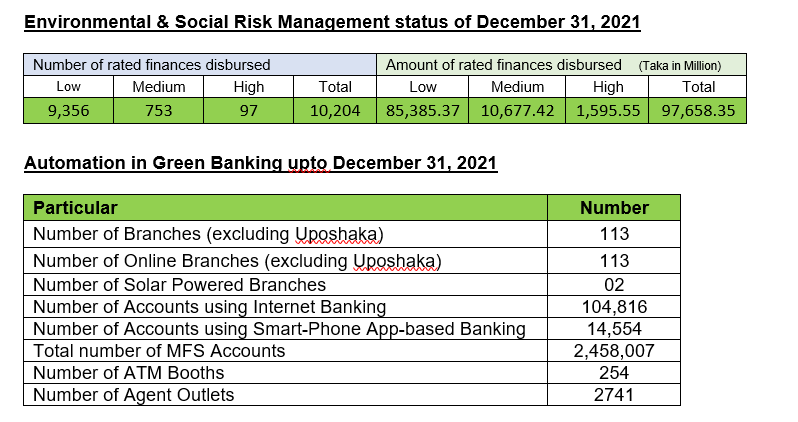 In-house Green Initiatives of Trust Bank Ltd.
Electricity Consumption:
Using Day lights and reducing electricity consumption with motion sensor and/or automatic dimming switches system at Corporate Office.

Ensure economic use of electricity

Increased Use of LED Lights at Corporate Office and branches.

Shutdown the computer properly and switch off the computer monitor before leaving office each day.

Reducing energy consumption an Energy Audit has been conducted by the Certified Auditors of Sustainable and Renewable Development Authority (SHREDA) on 02(Two) model branches of Trust Bank Limited i,e Millennium Corporate and Centennial Branch respectively.

Increased use in internet banking.

Increased use in mobile banking with Robi Axiata named 'tap'

Introducing Mobile App named 'Trust Money app'.

Ensure that light, fans, air conditioner have been switched off before leaving office each day.
Fuel Consumption:
• Ensure economic use of fuel.
• Encouraging the TBL officials to purchase fuel efficient vehicles to reduce gas and petroleum consumption.
Paper Consumption:
• Where possible use online communication (e-mail, IP message etc.) instead of printed communication.
• Think twice before taking a print.
• Take print on the both side of paper to save paper consumption.
• Use scrap paper for taking draft print and as note pads.
Water Consumption:
• Do not misuse drinking water; and
• Ensure economic use of water in all other cases.
• Avoid use of disposable cups/glasses to become more eco-friendly;